We are from INDIA.
Indipendence
Our grandfather, Gopaldas, was born in Sialkot in British colonial India (now part of Pakistan) around 1900. His family ran an Indian restaurant there, which means his father (our great grandfather) was also a chef.
When he grew up, Gopaldas started working in his father's restaurant. He then married Mayadevi and had six children (four sons and two daughters). The third child, born in 1935, was our father, Somnath.
India and Pakistan became independent from England in 1947 (when Somnath was 12 years old). He and his family moved from Sialkot to Panipat in that year, as they were Hindu.
His family was forced to restart their own life in Panipat during the chaos of India's new independence, as all of their assets had been left behind in Sialkot. Their new life in Panipat was a struggle, and Gopaldas and his four sons (including our father) all worked outside to support the family.
Restaurant Sialkoti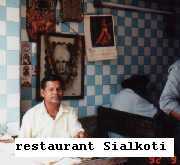 In 1955, our grandfather Gopaldas rented a space in New Delhi and opened the Indian restaurant "Sialkoti" with his four sons. Our father Somnath was twenty years old at the time, and he married our mother, Kawalraani, soon after the restaurant opened. Three years later, in 1958, I, HariOm, was born.
After I was born, the restaurant became very popular. It was famous for the long lines of people waiting outside everyday. Six years after the restaurant opened, the family was able to buy the property they had been renting, and Gopaldas' first and second sons branched off to open restaurants of their own and buy their own houses.
As I grew up watching my father working very hard in the restaurant, I did not want to be a chef of Indian cuisine (or any other kind of cuisine). However, I did occasionally cook meals for the family from the age of 12, and they liked my cooking very much.
Decided Become a Chef



In 1971 (when I was thirteen), my father was in a traffic accident while driving his motorcycle. He was very seriously injured and had to stay in the hospital for more than one year. The chefs at restaurant "Sialkoti" at that time were our grandfather (Gopaldas), my father (Somnath) and my uncle (Shamlal).
In order to cover the absence of my father, I (HariOm) had to help at the restaurant. My uncle (Shamlal) taught me a lot about working in the restaurant. I have great appreciation and respect for my uncle Shamlal as my first teacher of Indian cooking, even now.
My grandfather and father were also extraordinary chefs. The restaurant was really busy and I had no time to go to school. One year later, my father came back from the hospital and I returned to school.
In 1973 (I was fifteen years old), my father again had a traffic accident while driving his motorcycle (there are so many traffic accidents in India), and was hospitalized for six months.
Unfortunately, our grandfather passed away during the same year, and I had to help the restaurant again. This was the year that my life as chef officially started. I did not return to school again even after my father came back from the hospital but instead chose to continue working in the restaurant.
When I turned eighteen (in 1976), our grandmother, Mayadevi, came to visit us and told us about our family history. She told us about moving from Sialkot to Panipat, about my father and his brothers, and about our great grandfather also was a chef of Indian cuisine as well as our grandfather. Starting then, I developed a strong will to be successful in the restaurant business.
Until become inportant person charge



I started working at the Taj Mahal Hotel that year, but it is more precise to say I began my "physical training" rather than started "working", as the job itself was extremely tough. I was then transferred to the Taj Lake Palace in Udaipur, another hotel owned by the same company. After doing such a tough job in Taj Mahal Hotel for a while, I was promoted to "chef", and transferred to the Taj Palace Hotel , which was owned by the same company.
At the Taj Palace Hotel, I became a specialized chef who was in charge of serving meals to VIPs. I think my experience at the Taj Mahal Hotel gave me the confidence to overcome any difficulties I've had in my life since then.
Came to Japan and open own restaurant
I left the Taj Group in 1983, and worked at an Indian restaurant in Hong Kong for one year as chef manager. I then moved to Japan to work at another Indian restaurant, again as chef manager. Finally, in 1998, I opened restaurant RAANi, where we serve our guests authentic Indian home cooking. Our restaurant was named after our mother, "Kawalraani". "RAANi" means "queen" in the Hindi language.