Why we opened RAANi?
Why we opened the Indian restaurant here in Japan? There is variously reason to open our restaurant.
At first, to tell the truth, it is for "Live". But we don't need much money. We want to lead a modest life.
At 2nd wish, I want to proffer a delicious Indian cuisine for the people who live in Japan. And if I want to proffer a delicious Indian cuisine, there was no choice except to open my own restaurant. The Indian restaurant RAANi's cuisine is "Slow food".
Every time we are cooking with our whole heart. Please come to our restaurant and enjoy our north Indian home made cuisine.
Our policy
We always make the dishes which we want to eat. We use fresh ingredients. And our meals are all hand made.
We never use frozen meat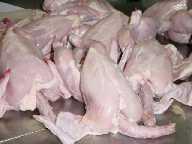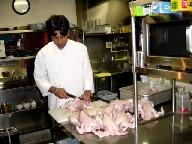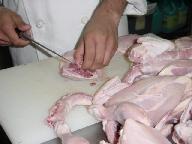 All spices direct import from India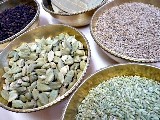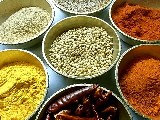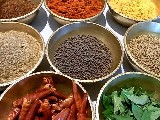 We never keep made-up curry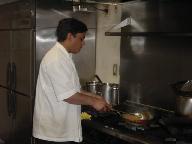 We can adjust the curry flavor sharp taste or mild taste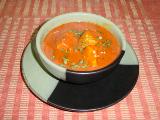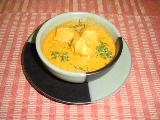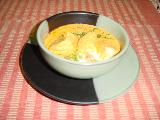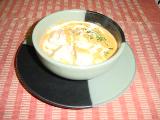 Comfortable space
We are cooking with our whole heart
Today's soup
There is a "soup of today" in the set menu of Indian restaurant RAANi. To tell the truth, this soup is our restaurant's original because there is originally no soup peculiar to the Indian cuisine. I guess that RAANi is the only one Indian cuisine restaurant that has served such kind of soup. We call it "Today's soup". So it change almost everyday.
We need much time when we make soup. It takes three hours or more to make soup until completing. We never use frozen ingredients. We use only fresh ingredient. The chemical additive is not used at all.
People call "slow food" about such a kind of cuisine. Hari Om learned how to make soup when he was in Taj hotel group. Next kitchen was soup section when he worked at hotel. One soup special chef was making 16 kind of soup everyday. He made 16 kind soup for all restaurant in that hotel. There were Indian restaurant, Chinese restaurant, French restaurant, Italian restaurant, steak house and cafe.
The chicken soup has been served during winter season. Because it makes warm your body. And during summer season, we make dal soup or tomato soup. It makes you cool. There is many kind of soup. We make it with love.
Dal and veg
Tomato soup
Chicken soup
Turnip soup
Cauliflower
Potato soup
Vegetable
Mushroom
Soybean
Spinach
Potato
Sambal
Mint sauce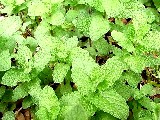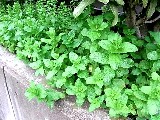 We get to guest a mint sauce when we accept an order of Samosa and Pakora. Mint sauce is very popular in India. We take some fresh mint leaves when we cook mint sauce.
We can get the fresh mint leaves from plant pot at the side of restaurant entrance. We are growing mint leaves there. We never use agrichemical. And it's fresh-picked leaves. Our mint sauce have beautiful green color. And it have very fresh tasting.
How to make Mint sauce
Mint-leaves, green coriander, dry-mango, yogurt, salt, lemon juice, cayenne and garam masala are put on the mixer. The amount is your favorite. Take care don't put into salt and cayenne too much. It can't keep long time. Because it use yogurt. You have to eat it within 2 or 3 days. Keep it in cool place.