Cooking lesson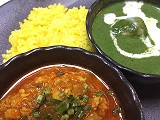 We have north India cooking lesson at our restaurant's kitchen.
The instructors are indian chef. And our owner chef HariOm took charge of the very important person at the tip-top hotel in India.
Not only in our restaurant's lesson, but also we can accept the order to send the instructor on your cooking lesson. We can teach cooking by Japanese or English or Hindi and more. Please feel free to inquire by E-mail or telephone [045-591-8067].
Gallery
Chicken curry
Tandoori chicken
Chicken briyani
Roasted chicken
Cheese curry
Meat balls curry
Chicken curry
Dal curry